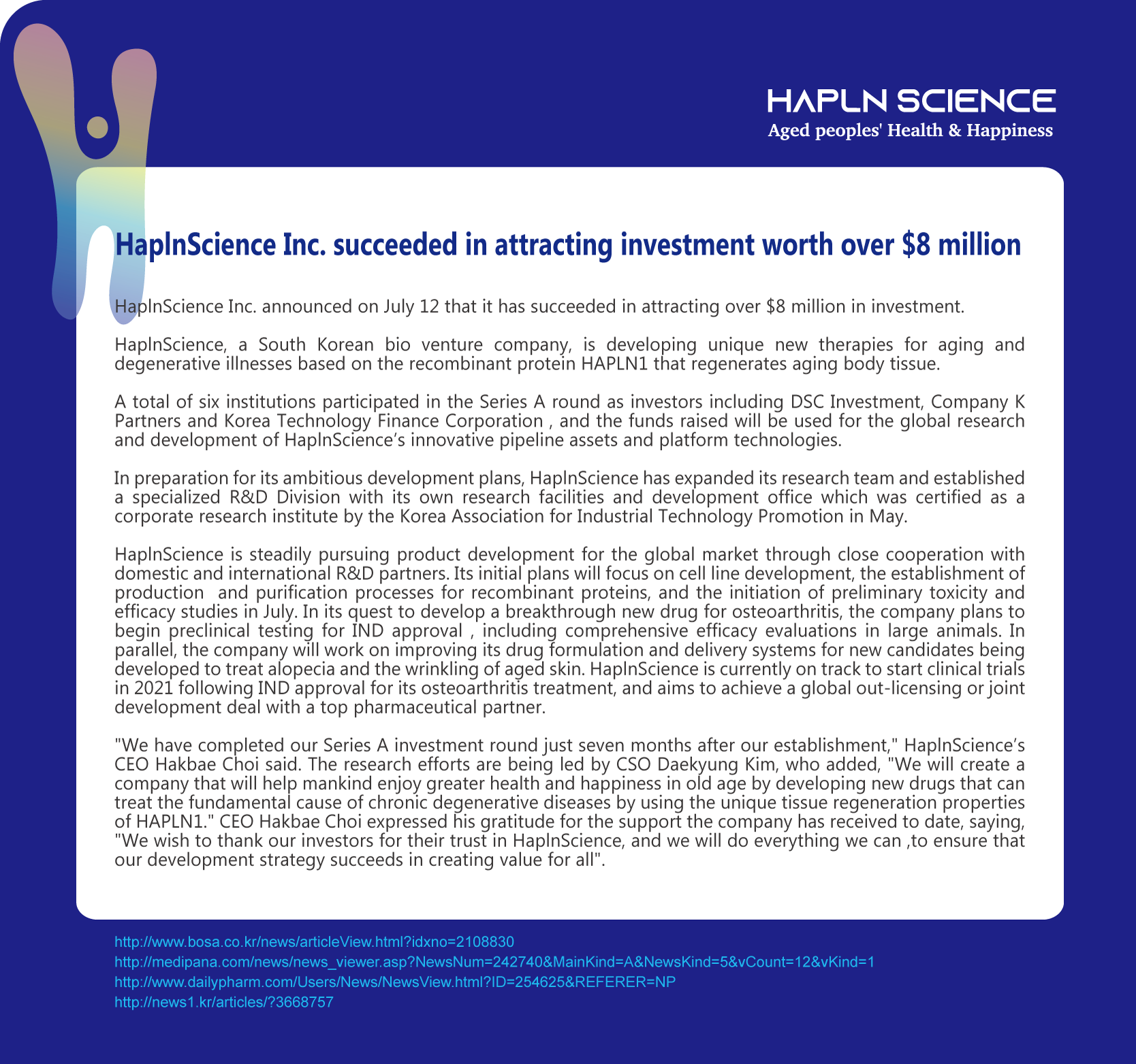 HaplnScience Inc. announced on July 12 that it has succeeded in attracting over $8 million in investment.
HaplnScience, a South Korean bio venture company, is developing unique new therapies for aging and degenerative illnesses based on the recombinant protein HAPLN1 that regenerates aging body tissue.
A total of six institutions participated in the Series A round as investors including DSC Investment, Company K Partners and Korea Technology Finance Corporation , and the funds raised will be used for the global research and development of HaplnScience's innovative pipeline assets and platform technologies.
In preparation for its ambitious development plans, HaplnScience has expanded its research team and established a specialized R&D Division with its own research facilities and development office which was certified as a corporate research institute by the Korea Association for Industrial Technology Promotion in May.
HaplnScience is steadily pursuing product development for the global market through close cooperation with domestic and international R&D partners. Its initial plans will focus on cell line development, the establishment of production  and purification processes for recombinant proteins, and the initiation of preliminary toxicity and efficacy studies in July. In its quest to develop a breakthrough new drug for osteoarthritis, the company plans to begin preclinical testing for IND approval , including comprehensive efficacy evaluations in large animals. In parallel, the company will work on improving its drug formulation and delivery systems for new candidates being developed to treat alopecia and the wrinkling of aged skin. HaplnScience is currently on track to start clinical trials in 2021 following IND approval for its osteoarthritis treatment, and aims to achieve a global out-licensing or joint development deal with a top pharmaceutical partner.
"We have completed our Series A investment round just seven months after our establishment," HaplnScience's CEO Hakbae Choi said. The research efforts are being led by CSO Daekyung Kim, who added, "We will create a company that will help mankind enjoy greater health and happiness in old age by developing new drugs that can treat the fundamental cause of chronic degenerative diseases by using the unique tissue regeneration properties of HAPLN1." CEO Hakbae Choi expressed his gratitude for the support the company has received to date, saying, "We wish to thank our investors for their trust in HaplnScience, and we will do everything we can ,to ensure that our development strategy succeeds in creating value for all".
​
​
http://news1.kr/articles/?3668757http://www.dailypharm.com/Users/News/NewsView.html?ID=254625&REFERER=NPhttp://medipana.com/news/news_viewer.asp?NewsNum=242740&MainKind=A&NewsKind=5&vCount=12&vKind=1http://www.bosa.co.kr/news/articleView.html?idxno=2108830